padgettllc
2017-03-31T14:22:13+00:00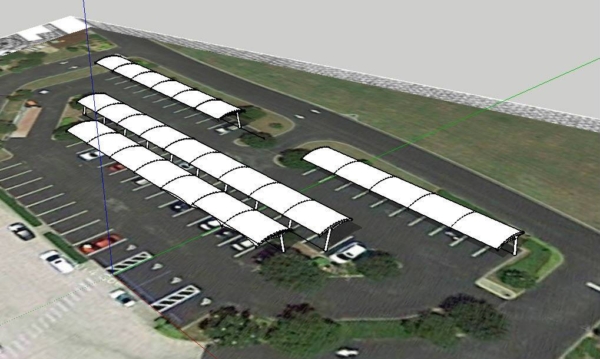 Florida Hospital Waterman The Florida Hospital Waterman campus wanted to add a functional yet eye catching shade solution for their doctor's parking area in the rear of the [...]
Shade Sail Project Timeline
1. CONTACT
Initial communication related to budget, needs and client's photographs of area to be shaded.
2. PLANNING
Creative design is what sets us apart. Our design proposals always include a graphic 3-D depiction of how the shade falls on the property at any time of the day and year from different angles, so you know exactly what your shade solution will deliver.
3. APPROVAL
Client review of planning, design and engineering drawings.
4. DELIVERY
Delivery of shade structure materials including fabric, poles and hardware.
5. INSTALLATION
Site preparation: Measurement, excavation and installation of concrete footings. Placement and leveling of poles. Cabling and installation of hardware for shade fabric. Tensioning and securing of fabric. Cleanup.
Some Words From Our Clients
"We needed to refresh and update the look of an existing courtyard. Our courtyard is a focal point in one of the premier resort hotels in Florida. Their design work was flawless, and the end result is beautiful. The shade sails really help the resort stand apart from other hotels in the area."
"We are a new business, with a limited budget.  Florida Shade Company took the time to design a solution that would provide us with a basic shade footprint that we can add additional shade sails to as our business grows."
"Florida Shade Company has done many projects throughout the Southeast for us. We build upscale, off-campus student housing complexes near major universities. We can count on Florida Shade Company to deliver a quality solution delivered on time every time."
"Florida Shade Company has done a lot of work for our zoo. We are a non-profit organization, with our eye on the budget. We can always count on them to create solutions that meet our needs and per budget."