Aside From Shade, How Do Shade Sails Lower The Temperature?
As we all know, hot air rises and in the case of shade sails it is able to pass through the breathable material.  The movement of hot air upward creates a vacuum that draws air from the outside of the structure.  This movement of air can sometimes lower the ambient temperature by up to 20 degrees Fahrenheit.  Alternative shading structures such as metal, wood, tile, shingles etc. trap the rising hot air within the structure and do not circulate the outside air.
Why Should I Choose A Shade Sail As Opposed To A Solid Structure?
Solid structure shelters are made from rigid and fixed material such as wood, steel beams etc. that require regular maintenance.  Shade sails not only have the benefit of little to no maintenance but are able to cover larger and custom sized areas with a small footprint and negligible line of sight obstruction. Oftentimes, the cost of a shade sail is more economical than a solid structure as well.
Are Shade Sails Waterproof?
Most shade sails are water resistant but not waterproof.  Since they are a breathable fabric a light mist of water will permeate the fabric during a heavy downpour but the majority of the rainwater will run off.  If requested, shade sails can be made waterproof and even constructed with rain gutters(limited to cantilever and umbrella designs).  Keep in mind that rain often blows in horizontally and does not fail straight down during a storm.
What Are Some Typical Locations For Shade Sails?
Basically, shade sails can be used anywhere shade is desired and concrete can be poured.
Some typical applications include:


Parking Lots – Car Dealerships
University Campuses
Playgrounds
Concession Areas


Hotels – Restaurants
Marinas – Boat Clubs
Poolside – Water Parks
Outdoor Amphitheaters


Resorts – Country Clubs
Golf Courses – Driving Ranges
Sports Fields – Bleachers – Dugouts
Parks

Even Indoors!
How Durable Are Shade Sails?
Our shade sails are not the cheap fabric sheets you may have found on a Google shopping search or have seen hanging off the side of a house.
Our shade sails are affixed to heavy duty powder coated steel posts and frames that are embedded in a wide concrete footing to accommodate the significant tensioning necessary to stretch the fabric.
The fabric is available in many colors, fire rated and easily removable if needed with an ez-glide elbow release system.
Why Do Shade Structures Cost More Than The Fabric Sails You've Seen Online?
Residential Grade Fabric Sails
– Typically Only Fabric Is Included
– Thinner Weight & Quality Fabric
– Non-Stainless Residential Quality Hardware Components
– Does Not Include Commercial Grade Steel Structure
– Attachment Points – Typically these kits ask the homeowner to use their homes and 4×4 posts in cement footers.  This type of installation will most assuredly fail because the tensioning and wind stress will cause the attachment points to rip, flex and ultimately fail.
Commercial Grade Shade Sails – Structures
+ Fabric, Powder Coated Steel Structure & Installation Included
+ Top Quality High Density Polyethylene UV Rated & Resistant Fabric
+ Free Custom 3D Site Planning & Consultation
+ 100% Stainless Steel Hardware Components
+ Reinforced Caged Rebar Cement Footings(Typically 5′ Deep x 30″ In Diameter)
+ Chemically Set Baseplate & Bolts
+ Attachment Points – Engineered plans ensure the steel structure is properly seated and can handle the wind loads and tensioning required for a commercial grade shade sail installation.
How Long Will It Take To Install Your Shade Sail?
Each shade sail installation is a custom project.  We design, draw, engineer, fabricate and install each shade sail | structure to order.  Depending upon permitting, site specific engineering and job complexity, a job can take from 30 – 90 days.  We try to expedite the process as much as possible and sometimes delays occur but we will keep you informed throughout your entire project timeline.
Will You Visit My Site Location?
Florida Shade Company will schedule a site visit to measure the area you wish to shade.  Our design software allows us to engineer your shade to cover particular areas depending upon the time of day and time of year based upon your specifications.  We will assist you during the entire process to make sure your shade experience is an efficient and pleasant one.
How Much Will A Shade Structure | Sail Cost?
Typically, a cost of between $10 – $20 per square foot is an accurate baseline. Of course, the price depends on many variables including location, site preparation, footings, fabric grade and other factors. We try to offer the best product at the lowest price point for our clients.
What Color Fabric Is Best?
Darker colored shade sails offer more UV protection(up to 96% of UVA & UVB rays) and are less likely to show mildew or dirt. However, lighter colored shade sails may be more aesthetically pleasing for certain design specifications.  Red and yellow shade sails are very prone to fading and not generally recommended by us.
Recent Projects We've Completed For Our Clients
Florida Hospital Waterman
padgettllc
2017-03-31T14:22:13+00:00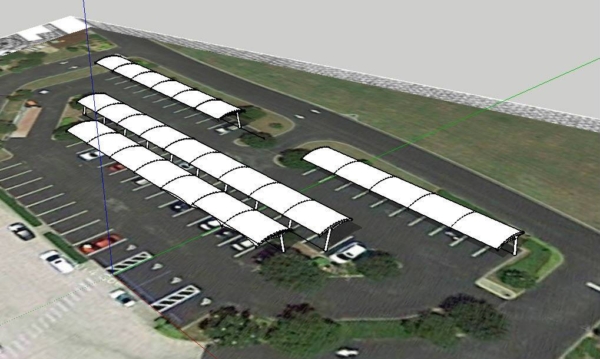 Some Words From Our Clients
"We needed to refresh and update the look of an existing courtyard. Our courtyard is a focal point in one of the premier resort hotels in Florida. Their design work was flawless, and the end result is beautiful. The shade sails really help the resort stand apart from other hotels in the area."
"We are a new business, with a limited budget. Florida Shade Company took the time to design a solution that would provide us with a basic shade footprint that we can add additional shade sails to as our business grows."
"Florida Shade Company has done many projects throughout the Southeast for us. We build upscale, off-campus student housing complexes near major universities. We can count on Florida Shade Company to deliver a quality solution delivered on time every time."
"Florida Shade Company has done a lot of work for our zoo. We are a non-profit organization, with our eye on the budget. We can always count on them to create solutions that meet our needs and per budget."